With many gyms closed or limited during the pandemic, many of us turned to at-home workouts, either on our own or with the help of online classes from Alomoves, Peloton Fitness (with or without fancy equipment), The Daily Burn or through apps like Seven. In fact, at-home fitness has become such a trend while we are all on lockdown, fitness equipment sales — everything from resistance bands to kettlebells to bikes — increased by 500 percent and led to massive shortages. It's no wonder that CES was full of fitness innovations. And if this year's virtual CES is any indicator, getting fitness out of gyms and into our homes and daily lives is the wave of the future.
Online Health Clubs
With fitness instructors taking their gigs online, there were many online venues where instructors showed us their ripped abs and guns — and mad skills — at CES. It looks to me like the future will hold many options for immersive, on-tap workouts, meditation, yoga, and mindfulness spaces online.
Ultrahuman is a new entry into the online gym space and it is very tempting. With classes in everything from mastering sleep to transforming your physique, this is a modern blend of neuroscience, fitness, nutrition, wellness, and mindfulness. And the classes are taught by serious experts. The site claims that you will learn from more than 100 of the world's best athletes, neuroscience experts and psychologists. It runs on iOS — and is optimized to work with the Apple Watch — or Android and turns your device into a high-end fitness retreat where you can get ripped under the guidance of celebrity trainer Kris Gethin — he will even tell you what to eat — train for a marathon, meditate away your anxiety, or listen to a bedtime story designed to improve your sleep. All this for $13.99 a month.
Wondercise, too, is a massive online library of workouts. But these pair with your Apple Watch or Wondercise Tracker Band ($99) to track your workouts in real-time and score how you did against your online trainer. It made me think of Wii Fit or fitness games on the Xbox, but it doesn't require anything more than your phone and fitness tracker. A subscription to the app is $4.99 a month.
Paasport intends to take your online workout even further into the territory of online gaming by letting you connect with up to four friends in a live workout competition. It requires only a camera — or Paasport's own box and camera — to connect to classes. This is still in the concept stage, but given the state of the world, it's a concept I'd like to try.
Fitness Watches
There are so many fitness watches at CES that I'm not going to try to tell you about all of them. But I will say this: There is no reason to drop a fortune on an Apple Watch. There are lots of options well under $50 if you want to try the concept before you commit a pile of Benjamins.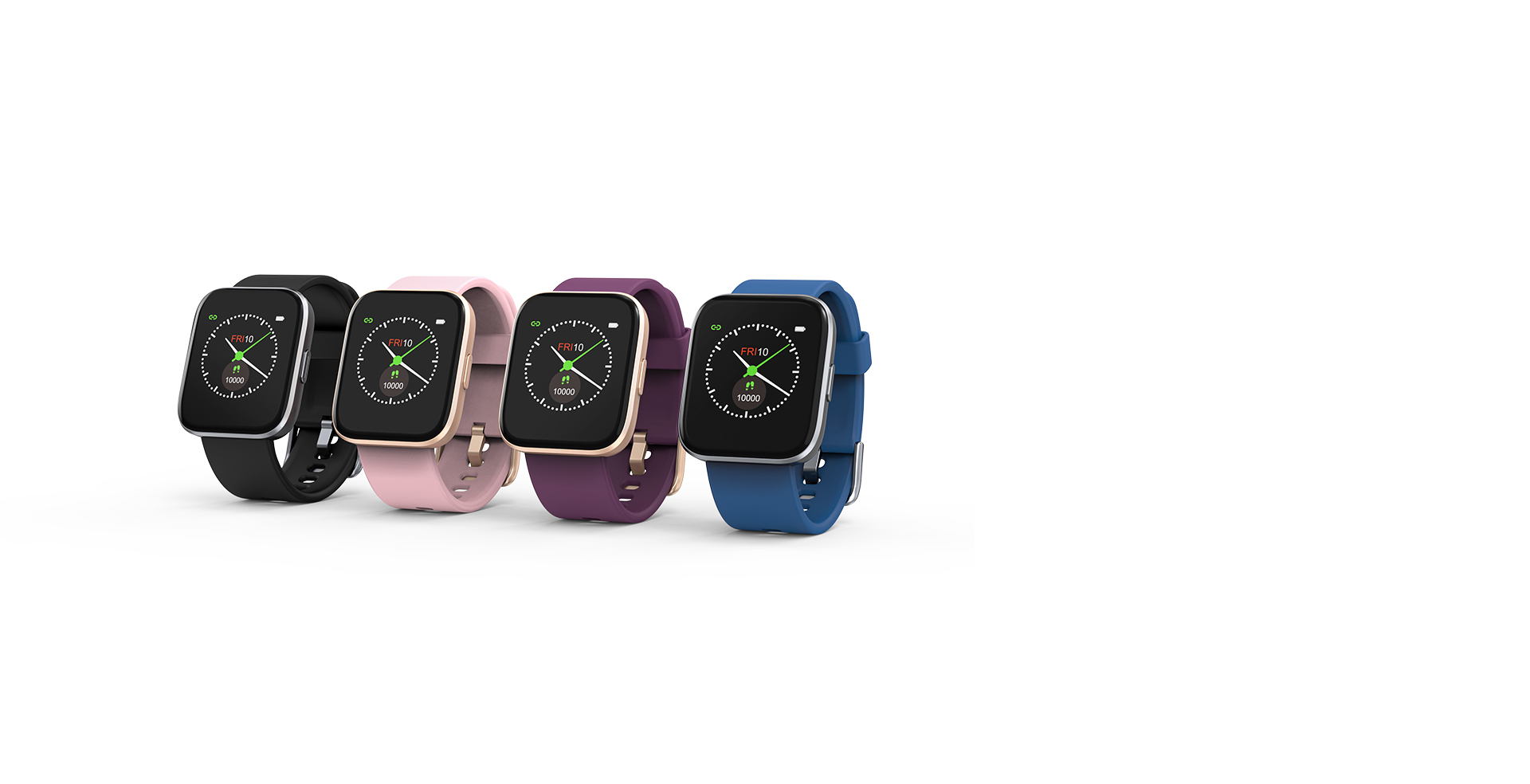 The Letsfit IW1 will track your steps, monitor SpO2 blood oxygen, track your heart rate so you can constantly monitor your resting heart rate, monitor your sleep, deliver phone notifications to your wrist, let you control your music from your watch, and map your route — among other things. It's also cute, comes in four colors, and is $39.99.
The Amazfit Band 5 is also a cute, slender, waterproof fitness tracker with impressive built-in technology. It will measure your blood saturation level, track your activity and sleep, estimate the calories you've burned, and more. It will also connect to your Amazon Alexa so you can give commands through your watch. It's $35.99 on Amazon.
Swedish company MYKRONOZ showed an entire line of impressive fitness watches — and earbuds — that not only rival the much more expensive well-known brands for technology but also for fashion — and at much more approachable prices. The slim and tech-rich ZeTrack, for example, is just $29.90.
Sport Earbuds
Like fitness watches, there were so many earbuds designed to help you work out with a trainer or music in your ear that at CES that I won't try to give a mention to all of them.
I am a particular fan of the Soul wireless earbuds, and their newest tiny wireless earbud — the S-Nano — is an engineering marvel. These are tiny! They also sound great, have an audio transparency mode so you can hear traffic and people talking to you while you are out for a run. They come in seven great colors and are so small you could keep the charging case on your keychain. They are $69.99.
Axloie has several tiny, completely wireless earbuds as well, including the AXLOIE Goin G2 that hooks over your ears, which — for many people — feels more secure. Waterproof and with five-hour battery life and a cute charging case, these come in three colors.
There were lots more of these, including tempting offerings from Hakii, Earfun, and Cleer.
Workout Machines
Peloton and Mirror proved that people will pay big bucks for a high-tech, connected, at-home fitness machine. And I think we can expect to see a lot more of these in the future.
Aviron was showing a slick, connected rowing machine with a small footprint and big screen that turned rowing into a game you could play against friends or strangers online, for example.
I was more tempted, though, by the YogiFi smart yoga mat. Yoga isn't competitive, but it is challenging to learn at home because there's no one there to correct you when your form is bad. But this mat — and the connected app — monitors your hand and foot placement and corrects you as you practice. It's $399.