The list for school supplies keeps growing, but paychecks are not. An estimated one-third of families plan to cut back on spending in other areas in order to cover the costs of must-haves for the new school year. The number one priority? Electronics. We've come up with a list of go-to gadgets for kids of all ages that won't break the bank.
Start With A Good Night's Rest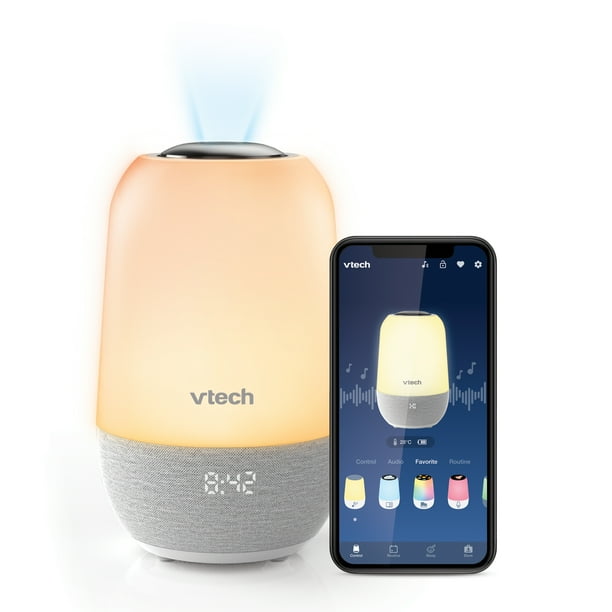 Sleep! It's one of the biggest issues for students of all ages. A new study shows kids not getting enough sleep may hinder neurocognitive development, impacting memory, intelligence and overall wellbeing. Take a look at this VTech V-Hush Sleep Training Soother. It helps create ideal sleep patterns and environments through stories, songs, a glow-on-the ceiling projector, multi-color night light, and powerful Bluetooth speaker. It's all backed by science and expertise, and you even get a free consultation with a WeeSleep consultant, all for $60.
A Microscopic World Of Wonder
For kids who want an early learning boost, science education is a great way to encourage curiosity and creativity. It might look simple, but the GeoSafari Jr. My First Microscope is a real, working, scientific tool that can open up new worlds for your kids without overwhelming them. It's a fully-functioning microscope that comes with 8X magnification, extra-large eyepieces, a kid-sized focusing knob, and a bright LED that lights up details for even more discoveries. It's $24.99 and perfect for kids 3 to 6.
Their First Laptop
The common consensus is that 10 years old is about the right age for a starter computer, and these days the number one tool for school is an affordable laptop or tablet. The key word here is affordable, of course. I like the Lenovo Chromebook Duet. It's one of the best small 2-in-1 Chromebooks around, and it's a great value for the price. The 11-inch tablet comes with a  detachable keyboard, built-in stand, and cover for inevitable drops and spills. It's ultraportable for homework and provides solid performance, 10+ hour battery life, and built-in virus protection. At $379, it packs a lot of punch for not much cash.
How Young Is Too Young For A Phone?
Kids (and their parents) want constant connectivity. Most experts recommend ages 12 to 14 for a first phone — but age isn't as important as maturity level, ability to follow rules at home and school, and sense of responsibility. Smartphones can be a lifeline for students — and their parents —but kids definitely don't need a thousand-dollar smartphone. For kids ages 4-9 there are starter devices like the VTech KidiBuzz 3. To be clear, this is not an actual cell phone but rather a WiFi connected device that lets them message parent-approved contacts, capture and share photos, and play games. It also has parental controls built-in to set daily time limits. It retails for around $70.
Then kids can graduate into a starter cell phone like Troomi that is specifically geared toward pre-teens and teens with its built-in parental controls. It looks like everyone else's smartphone — it's actually a barebones Samsung A12 — but it runs on Troomi's proprietary KidSmart Operating System. Parents oversee it all from a portal, and there's no access to social media, addictive games, or adult content. When we teach our kids to swim, we don't just toss them in the ocean. We blow bubbles, we take lessons, and then they graduate to swimming. We need to do that more with our kids and tech too. Troomi's phone runs a reasonable $180 and monthly service starts at $20.
Start On a Good Note
This is what I picked up for my daughter, who starts her senior year of college this year. We can all use a little encouragement these days, and the Presence "Inspiration" Display is my favorite new tool to put you in a better headspace. It uses the science-based power of daily affirmation to deliver a personalized and carefully curated playlist of inspirational and motivational quotes. It's an always-on and visible feel-good bit of tech designed to help you make meaningful changes in your life by forming better habits, retraining thought patterns, helping you center, and delivering daily doses of feel-good affirmations. It's available for a special "early-bird" price right now at $189. (I spend more than that on inspirational cards and quotes to put up all over my wall…)