As it's done every year for, well, a long time, Apple dominated tech news today by unveiling its all-new smartphone lineup, along with a few other surprises. These are all the most important announcements.
iPhone 11, Pro, and Pro Max
As expected, Apple's newest iPhone lineup includes a trio of shiny new devices. The iPhone 11 is a major upgrade, replacing the iPhone XR and boasting an all-new dual-camera system that boasts 2X optical zoom. That's a big deal, since the base model iPhones typically didn't include these higher-end features in the past. At just $699, it's sure to be popular when it goes up for preorder on Friday.
The Pro and Pro Max are what Apple is calling the higher-end models this time around. "Pro" is a good nickname for them, since they include not two, but a whopping three camera lenses on the backside, offering wide-angle, ultra-wide-angle, and a telephoto lens for close-ups.
On the front, all three flavors of the phone get new, stronger glass, and the front-facing camera now supports slow-motion selfies — "slofies" according to Apple.
The Pro and Pro Max start at $999 and $1099 respectively, and both go up for preorder on Friday.
Apple Watch Series 5
Apple's super-popular wearable is back again with another small but important upgrade. Apple Watch Series 5 looks a lot like the smartwatches that came before it, but it has one very important trick up its sleeve: an always-on display.
That's right! No more dark screen when your Apple Watch isn't being used! The Series 5 wearable is equipped with a display that can enter into an ultra-low-power mode, dimming slightly but remaining visible all day long.
The new watches also have a built-in compass feature and come in new materials including titanium. The Series 5 starts at $399 and is up for pre-order right now.
iPad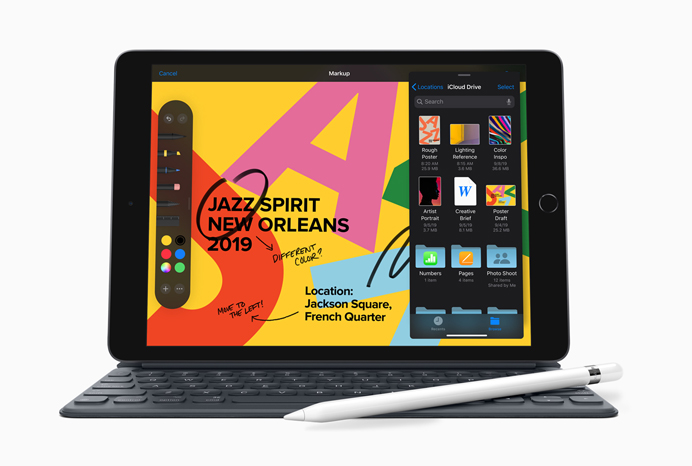 Rounding out the big Fall hardware push for Apple is an all-new iPad. Replacing the 9.7-inch tablet is the new 10.2-inch Retina-equipped iPad with the powerful A10 Fusion chip tucked away inside.
It's not quite as beefy as the iPad Pro lineup, but this new tablet still supports Apple Pencil and, at the super affordable price of just $329, it might be hard to pass up. It's available to order starting today.