[responsive_youtube 4qJPfB5i8xU]
There were an estimated 20,000 new gadgets on display at CES 2017 in Las Vegas. Some are the very devices we'll fork over fistfuls when they hit store shelves later this year. Others provide an exciting glimpse of wildly futuristic new concepts to come.
And then, there's the rest of it.
Here are some of the oddest and awesom-est gadgets I went hands-on with this year.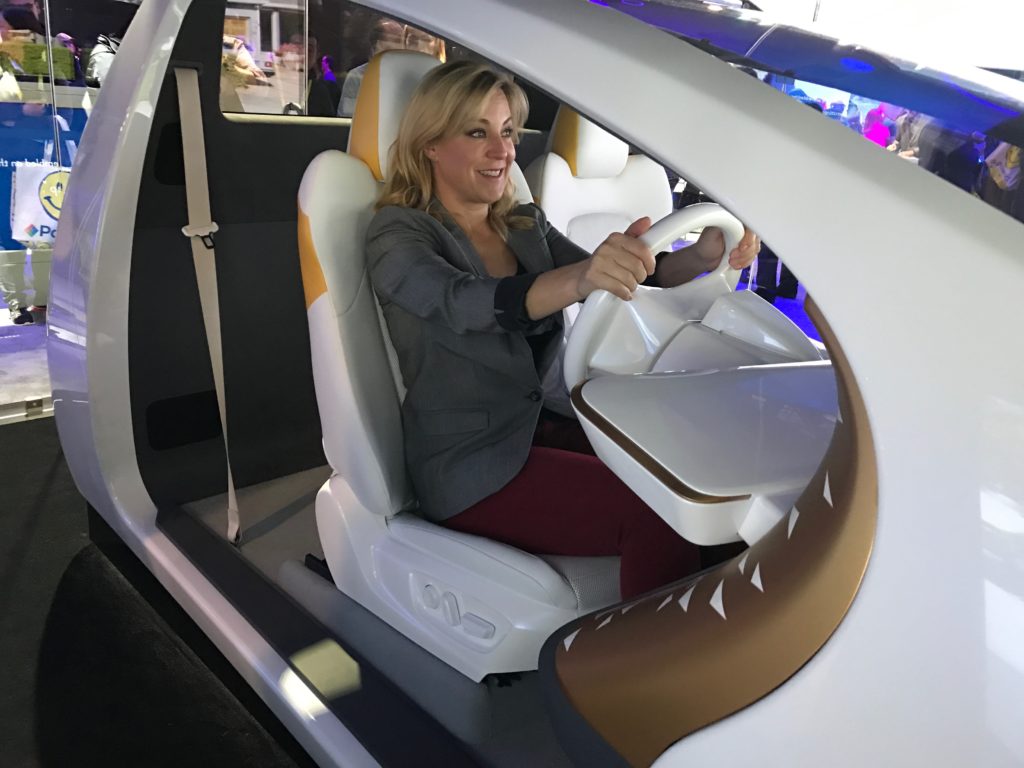 Toyota Yui Concept
Remember Nightrider's Kitt car? That's what it was like taking Toyota's crazy new Concept-i Yui car for a virtual spin. Hands-down the coolest experience of the show for me, this ultra-futuristic auto read my emotions through camera sensors, monitored everything around us, and slammed on the breaks long before I even realized that a woman stepped off the curb in front of us. It even said "Hello!" to passersby or "Watch out!" to people tailing a little too close. When we hit an open stretch of highway, the seat reclined and small rollers built-in to the backrest gave me a massage. Toyota says Yui is what driving will be like in 2030, but I'm hoping it's even sooner than that. A car that pampers you? Yes please!
Kino-Mo Hypervsn
Kino-mo had me hooked at first glance with its floating 3D "holographic" Pikachu. This London-based company drew some of the biggest crowds in the Eureka Park startup area, and for good reason: The incredibly colorful and realistic looking displays of everything from fast food to famous entrepreneur Mark Cuban made us all believe that holograms are finally here! While not technically an actual hologram, these 3D visuals float and move in mid-air just like the real thing, using a patented combo of high speed fans, magnets, LED's and projectors. They're used in advertising for now, so we can only hope to have them in our homes soon too.
Parihug Plushies
I miss my family like crazy whenever I'm away from home like I was all week for CES, and that's where a little stuffed animal called Pari comes in. No matter where you happen to be in the world, give your Pari a squeeze and it sends a "hug" to a connected companion plushie for your loved one to receive. The hugs range from mild short vibrations to longer, stronger, more intense haptic feedback "embraces." No two human hugs are the same, and neither are hugs from Parihug — they vary in intensity and duration just like the real deal. I'll stick with a Facetime call for now, but Parihug is undeniably adorable.
Aluma Connect
On a more serious note, smartphones are safety gadgets for millions of us every day, but in a personal emergency they're not always as helpful as they could be. Aluma Connect showcased a credit card-sized security device that attaches to the back of your phone and sync with a special app, creating a super-powered safety net. There's a silent alarm button built in that sends notifications to your friends and family as well as an audible siren to deter attackers. The battery provides a full year of protection on a single charge. You can sign up on the company's website for an alert when the price and launch date are revealed. I'm ordering one for myself, my daughter, and my mom right away!
In&motion Wearable Airbags
When In&motion strapped its wearable airbag vest on me I didn't know what to expect. Then, with a tap of a smartphone, it instantly inflated with giant whoosh and great big bang. It scared the bejeezus out of me — and everyone on the showroom floor. But if I was taking a tumble down a snowy ski hill or getting bucked off an angry horse, it's the exact right thing to protect my torso and keep my upper body intact! In&motion makes these for motorcyclists, horseback riders, and extreme sports enthusiasts, and it's sending its first 500 vests to eager testers soon — for free.
Wair pollution scarf
Fashion statement or funky air filter, aw hell, why not make a gadget that's both? That's exactly what French company Wair did with a high-tech scarf that aims to protect you from air pollution. On a clear day, just wrap the silky accessory around your neck and shoulders and look all spiffy as you go about your business. The scarf constantly measures the quality of ambient air and sends an alert to your smartphone when it's time to cover up. If that happens, you just pull the scarf over your nose and mouth, and let the built-in fan and air-filtration system do its thing. As weird as this sounds, I could actually see using it in big cities around the world — especially if I commite by bike.
Spartan undies
Yes, "booth babes" are still a thing. But the scantily-clad models in their skivvies at Spartan Underwear's corner of CES looked a whole lot different than the rest of the show…because they were dudes. The guys were showing off undies that protect "down undy" from the radiation created by smartphones and wifi antennas. Spartan says its boxer-briefs have silver fibers weaved into the cotton that block nearly 100% of wireless radiation from being absorbed. Since science still hasn't decided if those waves are harmful or not, keeping them away from the baby-making body parts could very well be a "better safe than sorry" move. Guys can pick up Spartan boxers right now, starting at $45.
Spinali Smart Shorts
The "booth babes" at fashion company Spinali's CES showcase weren't just there as eye candy either, they were wearing smart Daisy-Duke'that actually vibrate to give you directions. The weird wearable syncs with your phone and nudges one side of your waist or the other to tell you where and when to turn. It's a bizarre way to find your way around a city, especially if you have your phone with you anyway. Spinali doesn't have a launch date yet, but it's already got full-length smart jeans for sale, so it probably won't be long before the short-shorts also hit the shelves too.
Smartcane by Dring
Seniors have been forgotten by the "smart" tech revolution for way too long, and now they're getting some attention with the Smartcane. But before you roll your eyes, don't worry: this cane doesn't play Spotify or flash like a disco ball, it's actually a really helpful tool for caregivers to monitor the activity of their elderly clients, and it can even send alerts to family or friends if it falls over, which could signal potential problems. There's no release date or price yet, but you can sign up for updates on the company's website.
Roli Blocks
Every year I look at my bucket list and see "learn to play an instrument," and every year I forget to find the time. Roli's Blocks are the first gadget I've seen that lets you play music even if you have no idea how. It's a mini modular music studio that gives beginners a huge jump start so that you can playing right away. Just connect the Roli Blocks to your iPhone via Bluetooth and customize the LED lighted touchpads with whatever combinations of sounds you want. When I tapped a few times, actual music came out — and it didn't sound like a dying chicken. I was in awe. You can buy Roli Blocks now online or in Apple Stores, starting at $179.95.